Celebrating languages & recent news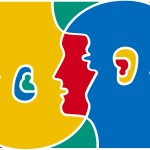 Celebrate the European Day of Languages today! Do not hesitate to visit the event's website to check all the activities organized in your respective countries and cities.
We'd like to take the opportunity on such a special day to announce that the SpeakApps project got the Lifelong Learning Programme KA2 Accompanying Measures support, starting this November 2013. We'll be expanding to new target learners including the secondary school sector and new languages such as Spanish, French, German, Croatian and Romani. We'd also like to extend an invitation to interested teachers and institutions to join us in this ongoing venture!